Links to several of my favorite recent articles on money and life:
Except for pictures of my family, the picture below is one of my favorites. It is a picture of Warren Buffett buying lunch for Bill Gates, not at a fancy restaurant, but at McDonalds. And to make it even better, Buffett is using a coupon. It is a great reminder that you never have enough money to not be frugal. Frugality is the theme of this week's articles.
26 Rich People Who Live Like the Average Joe Karen Doyle at GoBankingRates
Buffett, of course, is first on the list. I found this article interesting but the title somewhat misleading. It provides isolated examples of rich people being frugal, but I think if you looked at their lives in total they are probably not living like "average Joes."  Worth reading nonetheless. 
LeBron James Reveals the Frugal Habits That Make Him the 'Cheapest Guy' in the NBA by Tara John at Money Magazine
LeBron James is the Warren Buffet of the NBA; extremely rich but still frugal. This article reveals some of his frugal habits including using the free version of the music app Pandora rather than paying $5 a month. LeBron may be the cheapest current player in the NBA but he can't compare to former Utah Jazz greats Karl Malone and John Stockton. At least James has a smart phone. The picture below shows Stockton and Malone using flip phones as they watch Malone's son play in an LSU football game this year.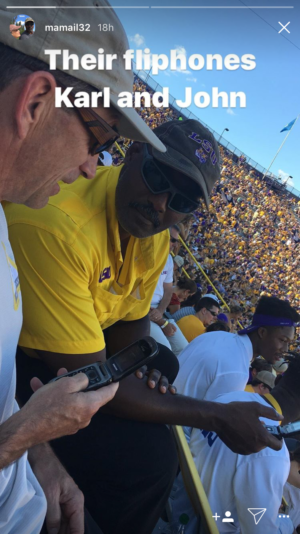 9 Haiku for Frugal Entertainment by Mrs. Grumby at Grumby's On the Move
My daughter, Shannon, loves haiku and often keeps us entertained with her creations. This article combines great haiku with great ideas on frugal entertainment. I really enjoyed this!       
Beware the Frivolous Purchase Threshold at Keep Thrifty
Your "frivolous purchase threshold" tends to rise with your income. That's why it is news when people like Warren Buffett and LeBron James have been able to keep theirs low in spite of their wealth. What is your "frivolous purchase threshold?" and if it is too high, how can you lower it? This article offers some great ideas.
Compound Interest Will Make You Rich, But Most People Completely Ignore Compound Spending by The Money Wizard
Just as frugality leads to more frugality, spending usually leads to more spending. This article provides some thought-provoking examples of this oft-ignored principle and provides yet another reminder of the rewards of frugality.
How this One-Time Child Soldier Has Lived the Perfect Thanksgiving Story by Jay Evensen at Deseret News
Before we leave thanksgiving behind here is one more poignant reminder about how much we have to be grateful for and of our responsibility to help those who are suffering.