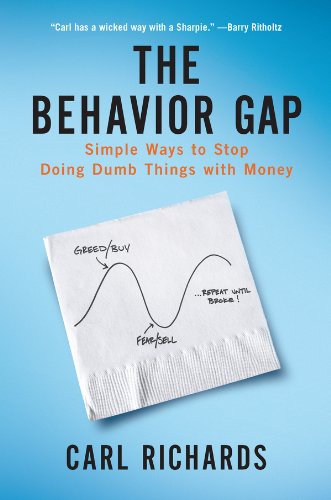 Carl Richards answers to a lot of titles including dad, husband, financial planner, blogger, best-selling author, in-demand speaker, and "Sketch Guy", which is the name of his weekly New York Times money column. "Sketch Guy" got its name because Richards has been creating simple drawings for years to illustrate the financial principles he teaches and he includes one with each of his columns. But he certainly never considered himself an artist.    
That explains why he was so shocked when he received a phone call in 2012, not long after publishing his best-selling book The Behavior Gap: Simple Ways to Stop Doing Dumb Things With Money, from the Kimball Arts Center in his home town of Park City, Utah and the voice on the other end asked him if he would like to display his "art" in a one-man show.  The only thing Richards could think to say was, "Art! You think my sketches are art?" The voice on the other end assured him that they did.
Unable to think of a good reason not to give an art show a try Richards framed some of his sketches and sent them to the gallery. When asked by the gallery to describe his artistic style Richards responded humbly but accurately, "Sharpie on cardstock."
The show was a big hit and all of his sketches sold. Soon calls started coming from other galleries asking Richards to do art shows. Since then Richards has done art shows all over the world, including one in the Lord Mayor's house in London where they had to move a few Renoirs to make room for his sketches.
Richards' sketches are simple but profound. Each teaches a complete financial concept or life lesson using only a few lines and even fewer words. Johann Wolfgang von Goethe once wrote, "Word and picture are correlatives which are continually in quest of each other…" I think they have finally met in Carl Richards' sketches.
I would love to include some of Richards' sketches in this post but I understand you can get into trouble using the masterpieces of a famous artist without his permission. Fortunately "Business Insider" received Richards' permission to use 27 of his sketches in an article they wrote several years ago. If you hate slide shows like I do you can click on the "View As One Page" option in the bottom right hand corner after clicking on the link.
If you enjoy Richards' art like me, and would like to see more, you can read his weekly column in the New York Times (he is also one of my favorite writers) or subscribe to his weekly email on his website at www.behaviorgap.com. If you subscribe on his website Richards' makes the following promise: "Every week in the Behavior Gap email, I cover a topic like money, creativity, happiness, or health with an elegantly simple sketch and 250 words or less."
That has got to be the best bargain on the internet. After all, where else can you get a masterpiece from a world-famous artist delivered to your inbox each week for free?
To read more about Richards' fascinating and unlikely rise from living in his in-laws basement to becoming a best-selling author and world-famous artist read The Art of Going Viral by Lee Benson in the Deseret News.